How to File a Bad Faith Insurance Claim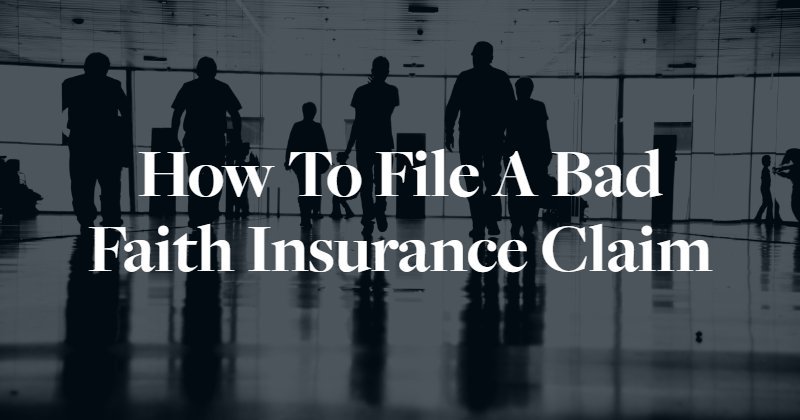 Whether we like it or not, we depend on insurance to protect us in the event something happens. For a car accident, we need automotive insurance to cover expenses for injuries or property damage. We rely on homeowners insurance to help in the aftermath of a major disaster like a fire, earthquake, or flood. Regardless of what type of insurance you need to use, or what type of claim your making, you should be able to count on the insurance carrier abiding by the terms of your policy. If they fail to do so, it may be the case that they are operating in bad faith.
At Dawson & Rosenthal, P.C., we have extensive experience helping those who are not being treated fairly by their insurance carrier. Our goal is to investigate your claim, review the terms of your policy, and secure the compensation you deserve. We are not afraid to stand up to aggressive insurance carriers to help you file a bad faith insurance claim.
What Is a Bad Faith Insurance Claim?
In California, insurance companies are legally obligated to act in good faith. Specifically, this obligation requires that an insurer uphold certain standards when handling a claim put forth by a policyholder. This includes:
Equal Consideration. This means that ensure must treat the claimant's interests as being equal to the financial interests of the insurer.
Reasonable investigation. Insurance carriers are required to conduct a prompt, thorough, and unbiased claim investigation into the incident in question. Failing to do so before denying a valid claim could constitute bad faith insurance practices.
Fair application of policy terms. An insurance carrier is required to reasonably interpret and apply the language in terms within the insurance policy
Promptly pay valid claims. Insurance carriers should promptly pay all valid claims after an investigation is complete. Denying or delaying benefits without a reasonable basis could constitute bad faith insurance practices.
Any deviation from these standards may be a sign that your insurance carrier is acting in bad faith.
Steps to Filing a Bad Faith Insurance Claim
1. Review the insurance contract
The first step you need to take is to review the insurance policy that both you and your insurance carrier have signed. An insurance contract is a signed legal document, and you need to know if there has been a violation of that contract. Make sure you get a full copy of the policy to review and make sure it is dated before you found your claim. If you are able to do so, get a copy of your insurance contract before you file your claim to be certain that it will be covered.
2. Keep logs of your claim
You will need to be able to prove the validity of your claim and that it falls within the terms of your insurance policy. To do this, you should gather all documents in evidence to make your case. This includes any video or photo evidence provided to the insurance company, any accident reports, receipts, estimates, and all correspondence with the insurance company.
You should put together a log that details all meetings or calls with the insurance carrier or the insurance claims adjusters. For each communication, note the date and time, the people involved in the conversation, and what was discussed.
3. Document any denials of the claim
If your insurance claim is denied, you should request that a supervisor with the insurance carrier review the claim and the denial.
4. Make a final demand
Before you decide to file a lawsuit for bad faith insurance practices, you will need to show that you tried to settle the claim. Send a written demand letter that details every aspect of your claim to the insurance carrier. Request a full settlement for the claim, and send the letter through certified mail. Typically, the insurance carrier has a limited amount of time from the date they receive the demand letter to pay or deny the claim.
5. File a complaint with the California Department of Insurance
If the insurance carrier chooses not to reverse the denial, you can consider appealing your case to the California Department of Insurance. It is possible that the review process will convince the insurance carrier to reverse the denial. By going through the California Department of Insurance, you are showing that you made every attempt to resolve the dispute before filing a lawsuit. Under California law, an appeal to the Department must happen within 30 days after the insurance carrier rejects the claim. If the insurance carrier fails to provide any documentation or does not specifically deny a claim, the appeal to the Department must occur within a specified time frame after you serve the insurance carrier with a demand letter.
6. Initiate a bad-faith lawsuit
If the insurance carrier continues to deny a claim, you should consider filing a lawsuit against them for bad faith insurance practices. This is not an easy task, and you should most certainly speak to a qualified San Diego bad faith insurance attorney when pursuing your claim. An attorney will have the resources necessary to conduct a full investigation into your case and will have a thorough understanding of how the lawsuit process works.
It is important to point out that, if the insurance carrier eventually decides to settle your original claim, you can still pursue a bad faith insurance lawsuit against them for what they have put you through if they acted negligently and outside of the bounds of state law.
Compensation Available for a Bad Faith Insurance Claim?
If you are successful with a bad faith insurance claim, there may be various types of compensation you are entitled to. This damages would be considered "extra-contractual" damages. Not only would you be seeking coverage for the claim that was denied or delayed, but you would also be seeking additional damages. Additional compensation in these cases could include:
Liability for judgments in excess of the policy limits
Statutory penalties in interest
Emotional distress damages
Coverage of other consequential economic losses sustained
Court costs and legal fees
Possible punitive damages against the insurance carrier for bad faith practices
The total amount of compensation awarded in these cases will vary, and depend on the facts related to each particular case.