Bad Faith Insurance Tactics & Examples
You should be able to count on insurance carriers paying out when a valid claim is made in accordance with the policy you have with that carrier. Being injured or suffering property damage is challenging to deal with as it is, but the situation can be even worse when the insurance carrier does not uphold their end of the contract. Insurance carriers are required to investigate, negotiate, and settle claims in good faith in accordance with the law. Unfortunately, that does not always happen, and an insurance carrier may operate in bad faith. It is important to understand various bad faith tactics that insurance carriers use and what these bad faith tactics look like in real life.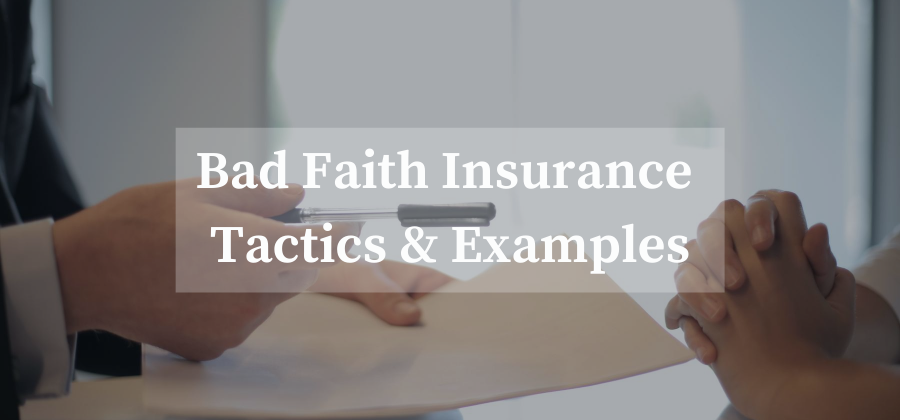 What is Insurance Bad Faith?
In California, insurance carriers are legally obligated to conduct business in good faith with their policyholders. This obligation arises under the insurance carrier's "duty of good faith in fair dealing" that is set forth under the law. This means that the insurance carrier has certain standards and obligations to meet when handling a claim, including:
Equal consideration. The carrier must treat the claimant's financial interests as equal to their own financial interests.
Reasonable investigation. The insurance carrier must conduct a prompt, thorough, and unbiased claim into the investigation. If they fail to do so before denying a claim, this could constitute bad faith.
Fair application of policy terms. The insurance carrier must reasonably interpret and apply the language of the policy they agreed to.
Prompt payment of valid claims. The insurance carrier must promptly pay any claims that are found to be valid. Delaying or denying benefits without a reasonable basis could be considered bad faith insurance tactics.
Bad Faith Insurance Examples
At Dawson & Rosenthal, P.C., our insurance attorneys regularly handle bad faith insurance claims. No two bad faith insurance cases are exactly alike, but here we want to give some examples of what these tactics could look like in real life.
In the aftermath of an accident, an insurance carrier denies the policyholder's valid claim for vehicle repairs but fails to give a reason for the denial.
A homeowner's insurance carrier goes to a policyholder's home after a fire, determines that a fire did occur, but denies all or part of the claim without properly investigating the cause of the fire.
A motorist incurs reasonable and necessary medical bills totaling $10,000 after a vehicle crash involving an uninsured motorist. The motorist has uninsured motorist bodily injury coverage of $15,000, but the insurance carrier only offers $5,000 to the policyholder.
A policyholder submits a request for approval for surgery that her doctors have deemed necessary. However, after three months, the insurance carrier has yet to approve the request, or has unreasonably denied the claim without a valid basis.
A homeowner's insurance carrier refuses to pay the policyholder's valid claim for damage sustained by a tornado, even though tornado wind damage is specifically covered by the policy.
A health insurance carrier denies a valid claim for an expensive surgery or medical procedure in an effort to avoid the expense or to avoid setting a precedent for future similar claims, even though the procedure is covered by the policy.
All of these examples present different scenarios that could happen and be considered bad faith insurance tactics. All these examples happen in one way or another on a daily basis in California. This, unfortunately, leaves policyholders in very difficult situations.
Types of Bad Faith Insurance in California
In general, there are two types of bad faith insurance claims that can be made – first-party claims and third-party claims.
First-party bad faith insurance claims are by the policyholder directly against their own insurance carrier. For example, a bad faith insurance claim may be bought by a driver against their own auto insurance carrier after the carrier refuses to pay out a valid uninsured motorist claim.
Third-Party bad faith insurance claims are those brought against an insurance carrier of which the person filing the lawsuit is not a policyholder. This is more common in liability claims such as when a driver is not at-fault for a crash, but the other driver's insurance carrier refuses to pay out a valid claim.
Can You Sue for Bad Faith Insurance Practices?
It is possible to file a lawsuit against an insurance carrier if they operate in bad faith regarding your claim. Laws regarding bad faith insurance claims differ from state to state. In California, policyholders are protected by the Unfair Insurance Practices Act, which is officially California Insurance Code INS § 790.03.
As the policyholder involved, it is important that you keep all documentation related to your claim so that your attorney can review everything that has occurred so far. This includes any paperwork or evidence you submitted as part of the original claim, as well as any written documentation provided by the insurance carrier denying your claim or offering an unreasonably low settlement.
Proving a bad faith insurance claim can be challenging, and it is recommended that you work with a trusted San Diego bad faith insurance attorney with extensive experience handling these cases. When proving a claim, an attorney will work to show that the policyholder:
Is owed benefits in accordance to the policy, and these benefits were withheld. This will require proof not only that you had a valid claim under the policy, but then the claim was denied by the insurance carrier.
Has had compensation withheld unreasonably or without proper cause by the insurance carrier. An attorney will examine the entire claim and work to uncover evidence of bad faith to prove this has occurred.
At Dawson & Rosenthal, P.C., we pledge to conduct a full investigation into your case in an effort to secure any compensation you may be entitled to. This can include:
Full coverage of your original valid insurance claim
Pain and suffering damages injured as a result of the bad faith tactics
Additional punitive damages against the insurance carrier
When you need a California bad faith insurance attorney, you can contact us by clicking here or by calling (619) 354-1652.