San Diego Workers' Compensation Insurance Lawyer
Workers' compensation is an insurance measure that employers must provide in California to protect employees from an on-the-job injury. If you suffer an injury while on the job, workers' compensation kicks in to pay for medical costs and some percentage of your wages. Because workers depend on this for help after an injury – and because it's state-mandated – workers' compensation bad faith issues are particularly heinous.
Workers' compensation is the safety net California provides that pays employees who have suffered injuries on the job while they are unable to work. If you can't work because of an injury and the workers' comp insurer or employer refuses to pay, you need help from a San Diego workers' compensation insurance lawyer who understands the complications of local workers' comp claims.
Depending on the accident, the cost to receive proper treatment can be massive. Plus, the loss of income during recovery can be crippling. California law requires businesses to carry workers' comp insurance for employees. This applies to companies that range in size from a single employee up to hundreds of employees. Employees in San Diego can rest easy knowing that if something bad happens at work, workers' compensation will cover the loss of income and medical expenses. Unfortunately, the insurance companies that provide the payout can be a different story.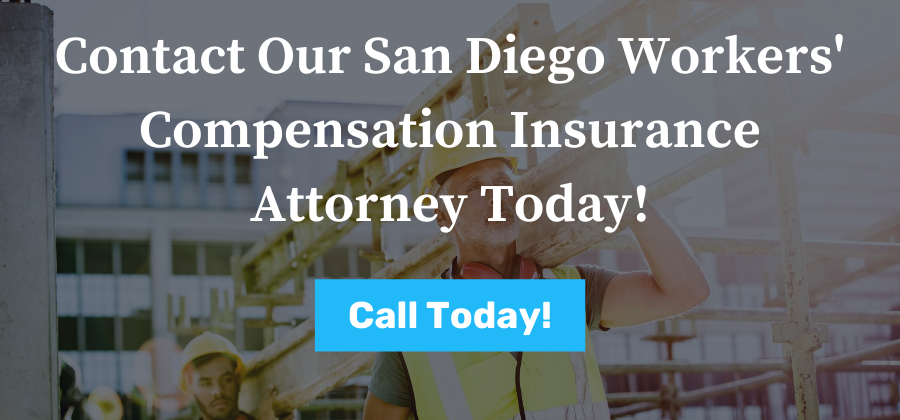 What Are The Types of Workers' Compensation Bad Faith?
After an injury or major surgery, medical expenses can add up, and, with no income to make ends meet, life can come to a crashing halt. According to the Federal Bureau of Investigation (FBI), some companies fail to provide the full workers' compensation payment, using the remaining funds for private use. This is just one type of bad faith claim for workers' compensation that our San Diego bad faith insurance attorneys have seen. Other examples of workers' compensation bad faith include:
Denied claims
Failure to provide a reason for a denied claim
Lack of documentation
Lack of proper payment
Changing the facts on a claim
Failure to provide a termination notice 14 days before cancellation of policy benefits
Delaying medical treatment
Using a third-party to handle tasks such as billing and issue of payment
Any one of these examples is a reason to file a claim. California has laws in place to protect employees from exactly these situations, but it sometimes takes the authority of a San Diego workers' compensation insurance lawyer to procure proper compensation. For more information on how to handle a bad faith claim, the California Department of Industrial Relations has an online resource full of useful information.
Proving Workers' Compensation Bad Faith in California
Proving a claim is in bad faith takes work and documentation showing failure to process the claim, a denial of a claim with no reason attached, or payment for a much smaller amount than the policy is for are all good evidence for building a case. This can be a very tricky process, especially if the insurance company is not willing to provide documentation or if the case turns into a game of he said, she said.
Be sure to keep a file filled with all the documentation related to the case. Records of healthcare visits, hospital stays, rehabilitation therapy, and pay stubs from before the accident are all necessary forms of proof. Also, keep any correspondence from the insurance company, a record of any phone calls, and any other documentation that might be relevant.
Why Do You Need a San Diego Workers' Compensation Bad Faith Attorney?
Having a workers' compensation attorney on the case is a necessity in workers' compensation bad faith cases. A law firm with 50 years of experience is more likely to know exactly how to handle a court case and will procure a higher settlement. In California, damages for a bad faith case include legal fees, making it worth having peace of mind and a legal team on your side.
Workers' compensation laws are in place to protect workers against unfair treatment. Don't let medical bills and lack of wages become overwhelming before acting. Let our law offices handle your claim and get you back on the road to financial recovery. Contact Dawson & Rosenthal, P.C. today for a free legal consultation.